Tracyslittletreasures-5 REBORN BABY DOLL GIRL Luisa Olga Auer 21 tummy plate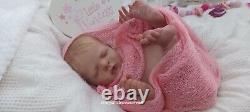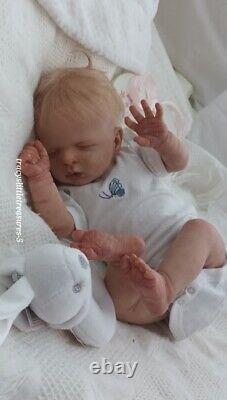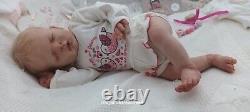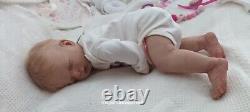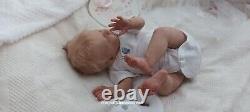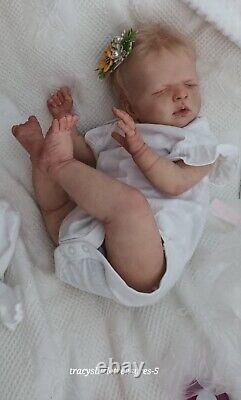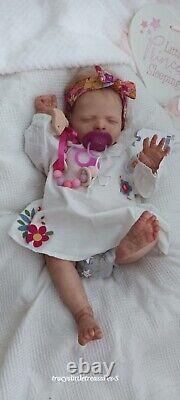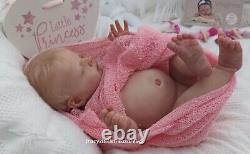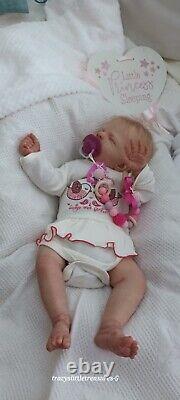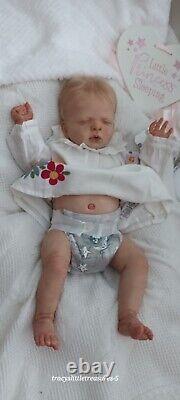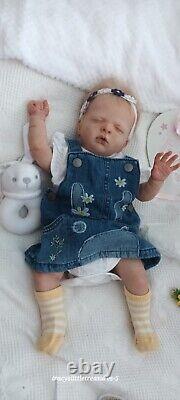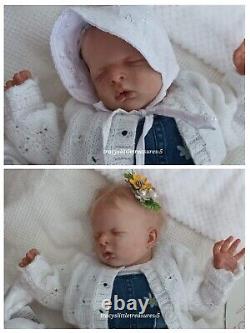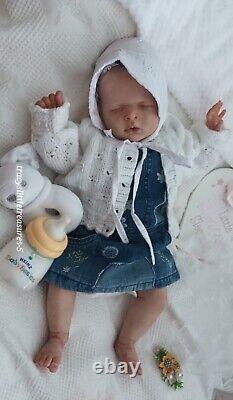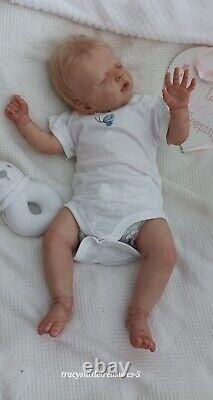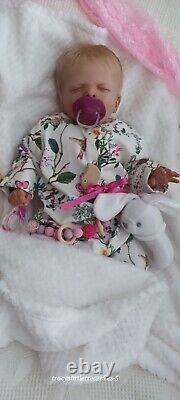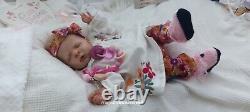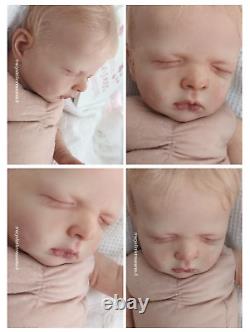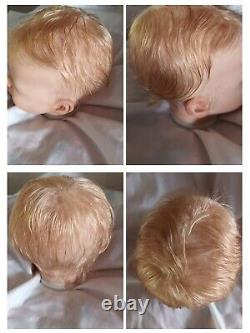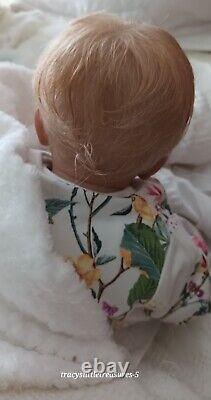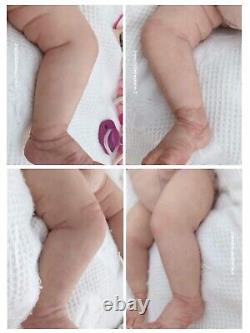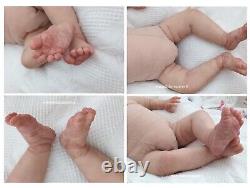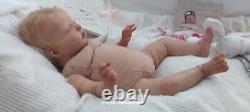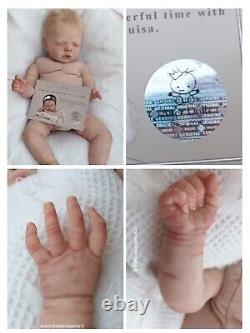 Please note Luisa IS NOT a full bodied silicone doll but does have a detachable tummy plate see details of Luisa below. PAY PAL offer interest free credit this option enables you to receive her sooner. Luisa by Olga Auer details follow this is my 3rd version of this beautiful baby girl. Full arm and full legs - vinyl.
She will have an anatomically correct tummy plate this can simply be attached via the ribbon ties or simply remove for that all important cuddle factor. Neck ring is attached to enable free movement you can turn her head side to side, equally she also has rings on her legs and arms this enables them to turn and pose with ease and no stiffness, so feeling far more realistic. She is a peacefully sleeping baby with a very slight open lips enabling you to see the tip of her tongue. Weight approx 5 lb 8 oz.
Luisa is a Larger newborn or 1 to 2 month size and wears 0-3 month or up to 3 month size clothing depending on brand and style. She will arrive with her limited first edition C O A 583/1000 worldwide. Painted in many layers to build a living skin effect. I use my own mix / blend of colours. This varies from baby to baby depending on the age he or she represents - therefore please see detailed photos in her photo gallery above. A final matte sealer two coats have been applied this has a smooth silky feel to the touch, just as a real human baby's skin is smooth and soft to the touch - yet a matte finish. Nails are painted , tipped and sealed to look as natural as possible, with tiny half moons (these can barely be seen if toenails are very small). Lips are a lovely natural healthy colour and sealed.
Moisture has been added in all the right places. Hair has been directionally rooted with a 42 gauge needle in baby blonde. She has smaller hairs just growing at her hairline for added realism close pictures of her hair from all angles can be seen in her photo gallery, this has then been sealed from the inside to enable GENTLE styling, i highly recommend you only use mohair condition as this has been designed for this. I will be sending a sample bottle of mohair conditioner for you to try, plus a brush and comb set. Barely there eyebrows and rooted lashes.
ALL photos in her photo gallery above have been taken in natural light, i do not enhance or use special lighting equipment, they have been taken in varies lighting conditions, so some will appear lighter or darker than others, this gives you a better idea of her skin colours in different lighting conditions making for a far more realistic photo shoot. Filling luxury fibre fill, tender touch baby fat, glass beads, finely crushed glass beads. She has been weighted to feel as realistic as possible with a typical newborn flop. The fibre fill and tender touch baby fat gives a lovely soft and squidgy feel, while the glass beads add weight.
To her head, body, and limbs (finely crushed glass beads). A reborn of around 5 lb in weight will feel the same as a 7 lb real live baby (when held).
This is simply due to the fact that'dead' weight feels heavier than live weight, due to gravity. Coming home with Luisa (anything not listed below is a prop and not included). Mohair conditioner and brush and comb set. She will have a certificate of birth / adoption from me , please message with a name of your choice or this will be left blank for you to fill in. Limited edition C O A. One soft toy of my choice (any other toys seen in photos are props and NOT included). 3 piece set floral wide bottom leggings swing top and floral headband by Next. 2 piece denim dress and white bodysuit.
White body suit with butterfly. Red floral footless zip sleepsuit.
PLEASE SCROLL DOWN FOR P&P DETAILS. S HE WILL BE SECURELY TIED TO THE BASE WITH RIBBON TIES IN A BRAND NEW PLAIN BROWN BOX specially sized for reborn s from tinker bell creations WELL PADDED AND FULLY PROTECTED FOR HER JOURNEY TO HER NEW HOME WITH PLENTY OF BUBBLE WRAP.
ALL EXTRAS LISTED ABOVE WILL BE GIFT WRAPPED TO ENSURE A LOVELY BOX OPENING FOR HER MUMMY.