Tracyslittletreasures-5 REBORN BABY DOLL GIRL FELICIA GUDRUN LEGLER 18 to 19 In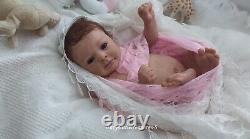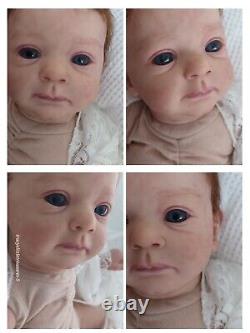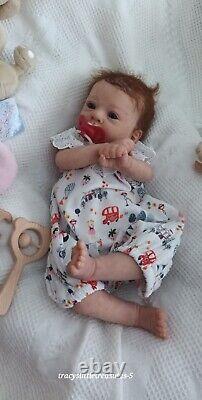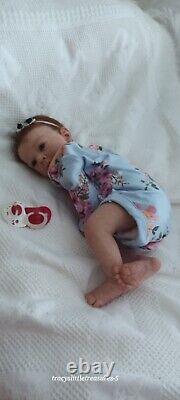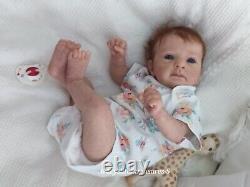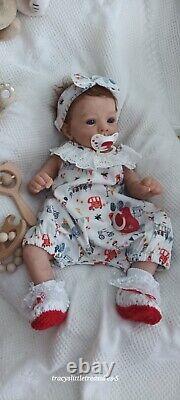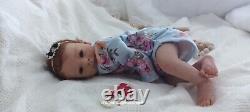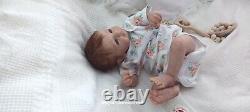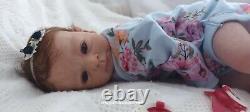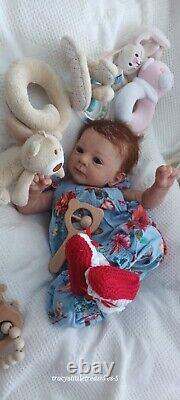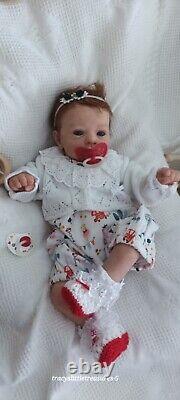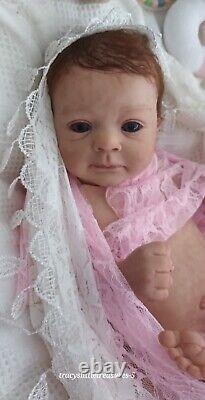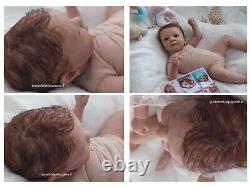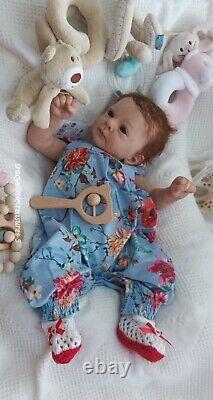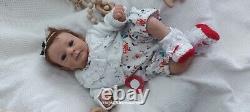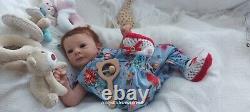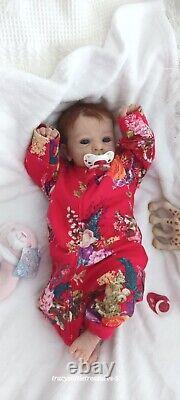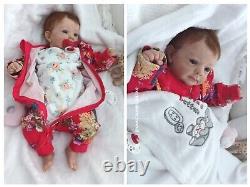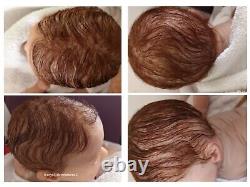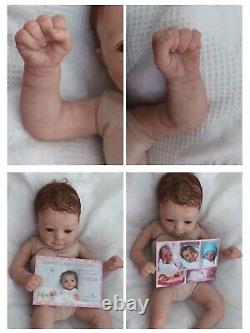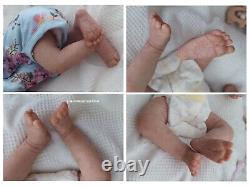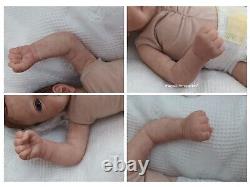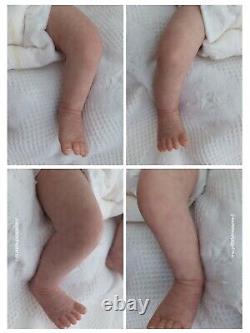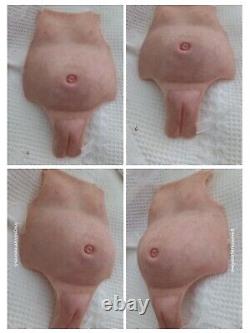 Felicia is NOT a full bodied Silicone but vinyl limbs and cloth body with a removable tummy plate please see full details below. Felicia by Gudrun legler Limited Edition please read fully her description which follows.
Weight 4 lb 5 oz approx. FELICIA IS A SMALL NEWBORN or large preemie at 0-1 week old. With stunning BABY Blue HUMAN LIKE glass eyes. These have been developed by Jayne Seddon at Tinkerbell creations specially for reborn dolls they are unique as they are made from the same glass material used to make prosthetic eyes for children, so they are as close to a real human baby as possible the white of the eye is a silver blue just like that of a human baby. Which although pricey well worth the cost for the added realism they achieve. Wears some tiny baby, first size and some smaller newborn size clothing depending on the style and brand. She will arrive with her limited FIRST edition C O A number 803 /1500 world wide. Full arms and full legs on a doe suede body. Anatomically correct tummy plate, this can be secured using the ribbon ties attached OR simply remove for that all important cuddle factor. PLEASE note: strong magnet behind her mouth plus magnets attached to her dummies.
Please ensure safety regarding Pacemakers etc. She has a NECK RING MAKING HER EASY TO POSE THIS ENABLES HER HEAD TO BE TURNED SIDEWAYS WITH EASE with that typical newborn' flop. SHE ALSO HAS ARM AND LEG RINGS ATTACHED THIS MEANS YOU WILL BE ABLE TO TURN HER LIMBS WITH EASE -PERFECT FOR POSING IN JUST A NAPPY ENABLES HER TO HAVE THAT LOOSER FEEL AND NO STIFFNESS SO WILL FEEL MORE LIKE A NEWBORN BABY. I mix my own blend of shades /colours to enable me to achieve the most realistic natural skin tones, depending on the age of the baby and the end look i wish to achieve for each individual kit making each unique.
SHE HAS BEEN PAINTED IN MANY LAYERS being a very newborn i have given FELICIA far more lilac/red /blue tones in keeping with her age. THESE LAYERS REPRESENT THE SHADES IN THE LAYERS OF REAL FLESH AND SKIN TO BUILD UP A VERY NATURAL AND REALISTIC LOOK CREATING A " LIVING SKIN " EFFECT. INCLUDING BLUE LAYERS - BLUISH UNDERTONES TYPICALLY SEEN IN A VERY NEWBORN (BUT LESS PROMINENT IN A SLIGHTLY OLDER BABY) HENCE DEPENDING ON THE SCULPT THIS MAY VARY FROM EACH OF MY BABIES. VERY FINE VEINS - WRISTS, ANKLES SKULL ETC. PIGMENT WASHES TO GIVE DEPTH TO THE SKIN TONES -THIS REPLICATES FAT LAYERS AND MELANIN PIGMENTS. Pale lime /yellow mix wash to add further depth and for a far more realistic skin tones rather than simply a plain flesh wash on it's own. REDDISH WASHES, TO REPRESENT MOTTLING (violet mix wash) AND CAPILLARIES UNDER THE SKIN. FLESH MIX WASHES TO REPRESENT THE TOP LAYERS OF SKIN.
Lilac tones where skin is naturally thinner. A FINAL MATTE SEALER TO PROTECT PAINT AND HELP PREVENT SHIN this has a smooth silky feel (just as real babies skin is soft and smooth)yet gives a matte finish. NAILS ARE PAINTED, TIPPED AND SEALED TO LOOK AS NATURAL AS POSSIBLE WITH TINY HALF MOONS toe nails being very small, half moons will barely show. LIPS ARE A LOVELY NATURAL HEALTHY COLOUR AND SEALED.
MOISTURE HAS BEEN ADDED IN ALL THE RIGHT PLACES (LIPS INNER EARS, NOSE AND EYES). HAIR HAS BEEN DIRECTIONALLY ROOTED with a 42 gauge needles picking up just a few hairs at a time for that natural just growing look IN Medium /dark Brown this can be styled wavy / curly.
WITH SMALLER JUST GROWING HAIR AT HER HAIRLINE and peach fuzz around the sides as you would see in a real baby for added realism - this has taken many hour to achieve the final result THIS HAS THEN BEEN SEALED FROM THE INSIDE TO ENABLE GENTLE WASHING AND STYLING either as seen in his photos or to your own preferences with either the brush provided or finger styled i would recommend simply using mohair conditioner rather than washing simply as you are less likely to get tangles /knots and unlike us obviously her head does not produce oils etc so will not get'greasy' and the former is far easier : and more gentle. Real human lashes in medium brown.
FELICIA's photo shoot is above in the photo gallery, these have all been taken in natural light NO special lighting equipment has been used, taken over a couple of days in varies lighting conditions, hence depending on the weather/time of day some will appear lighter/darker than others this gives you a better idea as to her skin colours in all lighting conditions making for a far more realistic photo shoot. FILLING - LUXURY FIBRE FILL, tender touch baby fat AND FINELY CRUSHED GLASS BEADS TO A GOOD REALISTIC WEIGHT OF A NEWBORN SO SHE WILL FEEL AS REALISTIC AS POSSIBLE WHEN PICKED UP AND HELD. THE FIBRE FIL AND TENDER TOUCH BABY FAT GIVES THE BODY A LOVELY SOFT AND SQUIDGY FEEL FOR THAT ALL IMPORTANT CUDDLE FACTOR AND THE GLASS BEADS ADD WEIGHT TO HER BODY, LIMBS (finely crushed) AND HEAD AS A RESULT : SHE WILL NEED HER HEAD SUPPORTED JUST AS A REAL BABY A REBORN OF AROUND 5 LB IN WEIGHT IS THE SAME AS A 7 LB REAL LIVE BABY (WHEN HELD) THIS IS BECAUSE'DEAD' WEIGHT FEELS HEAVIER THAN LIVE WEIGHT (DUE TO GRAVITY). Below is a list of all that Felicia will take home with her anything not listed below is a prop and not included. All the following are free gifts from myself.
DUMMIES x 2 plus dummy clip (not shown) EXTRA NAPPIES X 2. SOFT BRUSH and comb set for her HAIR I WOULD ADVISE USING EITHER MOHAIR OR LEAVE IN TANGLE FREE KIDS CONDITIONER TO HELP KEEP HIS HAIR IN GOOD CONDITION i recommend leaving it on for a minute or two and then gentle brush do this every time you handle her to keep hair in tip top condition (just as we comb our hair every day or we would end up with knots and tangles :).
A SAMPLE spray bottle of mohair conditioner for you to try either with the brush provided or finger styled like in her photos or in a style of your choosing. ILL HAVE A CERTIFICATE OF BIRTH / adoption FROM ME PLEASE MESSAGE WITH A NAME OF YOUR CHOICE SHOULD YOU WISH TO CHANGE HER NAME. SHE WILL HAVE HER LE FIRST EDITION C O A 803/1500 world wide.
SHE WILL HAVE HER female gender TUMMY PLATE. One soft toy of my choosing all other soft toys etc seen are props only. White plush teddy Applique blanket (any other blanket or lace shawls are props only and NOT included).
She will arrive with all the following clothing. Sleeveless floral print Romper NEXT. London theme short romper with matching headband NEXT. Hand knit White & red booties. Long sleeved blue floral bodysuit Next. Red footless floral sleep suit Next. White floral print bodysuit Next. PLEASE SCROLL DOWN FOR P&P DETAILS. S HE WILL BE SECURELY TIED TO THE BASE WITH RIBBON TIES IN A BRAND NEW PLAIN BROWN BOX specially sized for reborn s from tinker bell creations WELL PADDED AND FULLY PROTECTED FOR HER JOURNEY TO HER NEW HOME WITH PLENTY OF BUBBLE WRAP. ALL EXTRAS LISTED ABOVE WILL BE GIFT WRAPPED TO ENSURE A LOVELY BOX OPENING FOR HER MUMMY. BE ASSURED I SEND AS I WISH TO RECEIVE WHICH MAKES HER PERFECT AS A GIFT.