Bluebonnet Babies REBORN Doll Ethnic Baby boy Kaia by Ping Lau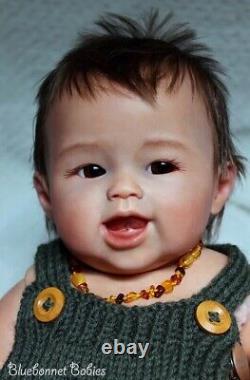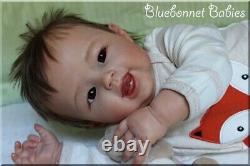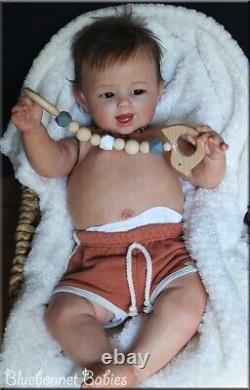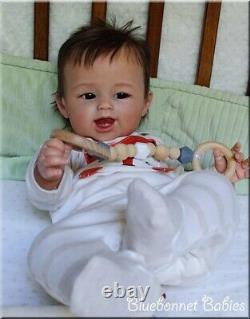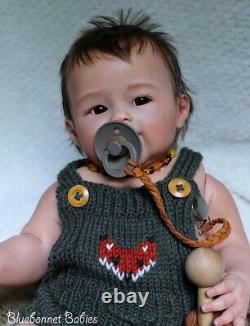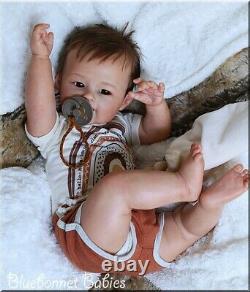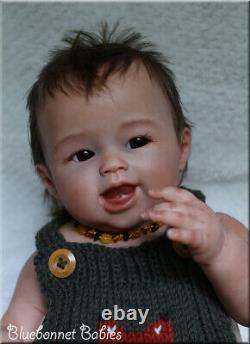 Original sculpt name :''Kaia, the One Tooth Wonder'' Sculpted by PING LAU. 21.5 inches (54.61 cm).
Note: All measurements are approximate. I hope you enjoy the following photos of this absolutely adorable ethnic baby that I've reborn in my nursery. I took all the photos you see in a variety of natural lighting conditions both indoors and outdoors to show how his/her complexion changes in different light intensities of the day (as real skin often does). Due to different computer and tablet screen displays, the baby's complexion will look more or less brilliant or intense depending on what type of device you are viewing currently. I always suggest using several devices to view these photos if you are serious about adopting him. This darling baby started out as the uniquely expressive''Kaia, the One Tooth Wonder'' by very talented sculpting artist, Ping Lau. Kaia is just too cute for words as any gender boy or girl!
Ping Lau is well known for her extremely expressive sculpts and little'Kaia'' is no exception. This new sculpt is a true representation of a 3+ month old baby, ready to sit up and explore the world! This highly realistic baby is expertly sculpted and cast into vinyl by a professional sculpting artist (Ping Lau) and subsequently reborn by a decade+ long established reborn artist (me) using only the BEST materials available!
This kit is OPEN EDITION, meaning they aren't limited and therefore no COA is provide by the sculptor or dealer but will come with a birth certificate signed by me, the reborn artist. This baby will make a great addition to any reborn collection!
I have given this sweet baby. More of a tan, ethnic Pacific Islander (like native Hawaiian or Filipino) complexion using layers of Genesis paints that has very little mottling you'd expect to see in baby's skin but not overly done to remain lifelike as possible without looking too overly blotchy. The skin surface is NOT''chalky'' as I use a modest amount of varnish to seal the paint and keep the shine down. This baby could also be considered Hispanic as he looks very similar to my adopted nephew who is from Guatemala.
Each layer of Genesis paint is applied in such a way to give the skintone depth and realism. Aint bluish undertones are spread throughout in all the appropriate places. This is to mimic areas of thinner skin and veins, and they lie just below the skin surface so they look blended...
Not simply''drawn on'' and do not overpower her complexion with a bunch of''blue lines'' that look unsightly. Kai has FULL vinyl arms and FULL vinyl legs attached to a sturdy, soft flesh colored cloth body with cinched bottom that is made just for this sculpt. I spare no expense in getting the silkiest and the most baby fine hair on the market as I feel it's the most important part of a reborn baby's realistic look.
I left it long enough for spikes when styled gently. Maintaining his head of hair is done by damping a fine to medium tooth comb and running it over his head gently and letting it dry naturally to achieve the look seen in these photos.
I lightly painted his scalp with a layer of Genesis paints to mimic the ultra baby fuzz along the hairline and give it more depth and realism. Both micro-rooting and painted scalp combo is done to achieve the best head of hair possible on a reborn baby! Rooting it took weeks to complete and was achieved with the smallest needle available at 43gauge German so you know there is only 1-2 hairs inserted at a time giving him/her a natural''baby hairline'' look to the baby's head. I have given Kai a pair of German blown glass eyes in an Asian brown color that matches his darker hair so well. Pictures do not do them justice as they even more pretty in person.
The baby's eyebrows are painted wispy and fine and do not overpower the his/her face. The nostrils were shaded gently and thoroughly using Genesis paints for depth and realism. Kai's open mouth was painted a soft, natural looking mauve color in differing shades on tongue and gums and is only slightly glossed to protect the paint and give it a damp look. He has one cute little tooth emerging through his bottom gum and hence the sculpt name.
Magnets were placed inside the mouth to accommodate a pacifier... These can be removed if necessary as they can be harmful to those with pacemakers.
Each of the baby's tiny nail beds have been given realistic touches and glossing for the freshly clipped look. I also put some polypellets in a pouch in the body area for a squishy feel and glass beads in the head...
With more concentrated weight in the baby's bottom and legs to balance the body weight. I've weighted the head only slightly as Kai is an older baby with lots more head control and therefore less floppy and will not slump when sitting alone. Due to varying tastes in weighting and stuffing from person to person, I will include an extra zip tie to change the weight and stuffing to your own liking should you want the baby more stiff and/or heavier or lighter. Kai will come home with all the cute earthy shaded outfits seen in these photos plus a few more items of my choosing, including the handmade pacifier clip and amber teething necklace that looks so cute with his outfits.
This baby fits in most 0-3 months clothing sizes and about a size 0-1 shoe. A dream to shop for and dress up! COMES WITH GENDER NEUTRAL TUMMY/CHEST PLATE that is removable for when you want to hold and cuddle him.
Modified magnetic pacifier is included. Magnets can be removed if requested as they can harm those with pacemakers. This baby will also come with a birth certificate from my nursery but due to his open edition kit status has no COA that came with this kit from the dealer. All other blankets, wooden items, seating props, and other toys, etc you see in the pictures here are only photo props and will not be included. I hope you enjoyed looking at and considering this adorable reborn baby for adoption!
Kai is as cute in person as he is in these photos and will make an excellent addition to any reborn collection. Does Kai remind you of a someone you've seen or had in your life?
If so, don't let this darling one get away as there will not be another just like this.... As no two reborns can ever be exactly alike. If you need another way to pay...
I will be happy to answer any and all questions promptly. I back my work 100% and use only the finest materials to make this baby. I have described him/her to the best of my ability and have provided many pictures for you to get a portrayal of him/her as accurate as possible.
All babies come from a 100% smoke free environment. This is SO important as I realize that with any art-form, tastes will vary. See my''ME'' page link below to learn more about me and my babies and where else you can find me online. Previous Reborns by Bluebonnet Babies that have found their forever home!
These babies have already been adopted and are meant show my past work. These babies are not available for duplication as they are OOAK! Assembled using the FreeForm Builder.
With EAPH Help and Hosting. The item "Bluebonnet Babies REBORN Doll Ethnic Baby boy Kaia by Ping Lau" is in sale since Monday, October 5, 2020. This item is in the category "Dolls & Bears\Dolls\Reborn\Reborn Dolls". The seller is "angeez*auctions" and is located in Alabama. This item can be shipped worldwide.
Material: Vinyl
Doll Size: Approx 21.5 inches
Brand//Artist: Reborn by Bluebonnet Babies
Type: Baby
Brand: "Kaia, the one tooth wonder"
Featured Refinements: Reborn Ethnic Doll
Features: Artist Made
Ethnicity: Asian/Pacific Islander
Brand/Artist: Sculpted by Ping Lau
Doll Gender: Boy Doll