Realborn Clyde Awake by Bountiful Baby Boy Reborn Doll Poupee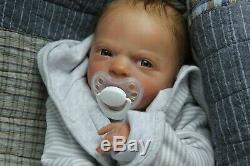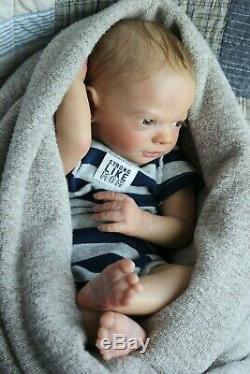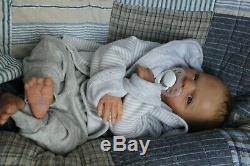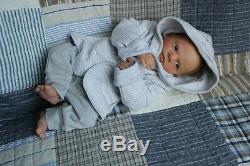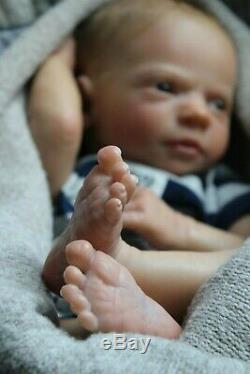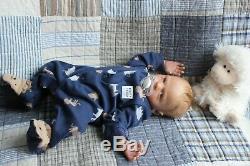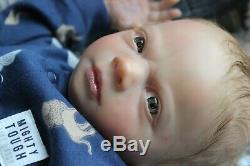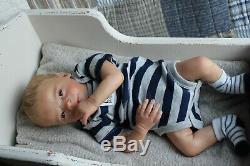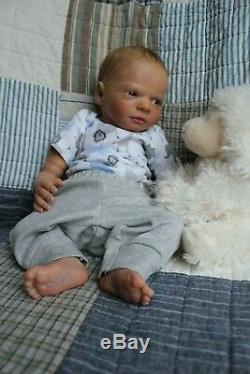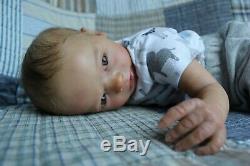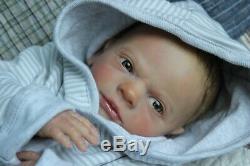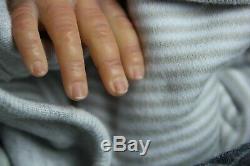 Pouponnière les bébés d'Ange. Realborn Clyde awake by bountiful Baby. Realborn® Clyde awake by Bountiful Baby Realborn® A Realborn® is a Real Baby Replica, created directly from computer photometric scans of a precious real newborn baby. The beauty, innocence and soul of the newborn child is captured like never before in these stunning, heaven sent creations-- the most beautiful and perfect canvas ever offered to the reborn world!
Virtually every sweet baby fold, wrinkle and crease of the head, ears, eyes, nose, fingers, feet, and toes are captured with this technology. Then small details are carefully checked to assure the detail will transfer over beautifully into the vinyl. Then a 3D prototype print is created using one of the highest resolution 3D printers on the market today. From the 3D prototype print, the molds for the most perfect reborn artists' canvas (the Realborn® vinyl doll parts) are created. Bountiful Baby kits have been tested to meet USA CPSIA requirements, and have also been tested to meet the more stringent European Standard EN71.
This Realborn come with a Certificate of Authenticity. This certificate has a picture of the real baby and actual footprints, created from the scans of the real baby, as well as a place to write birth details about your baby weight, length, etc. " Clyde " # B4-5173 Vinyl doll, cloth body 3/4 arms and full legs Weight Approx. 4 lb 14 oz Length 18 Inches Head circumference 13 Inches Reborn On February 05, 2019 He comes home with a beautiful box opening Features Genesis Heat Set Paints Rooted Hair Soft Flesh Doe Suede Body 3/4l Arms, Full Legs Hand painted Eyebrows Wispy rooted Eyelashes Premium Bountiful Baby Polymer Eyes Amazing Lifelike Skin Tones Magnetic Pacifier Note This sweet little baby doll has been lovingly reborn into this amazingly lifelike baby boy. All of my babies are created with a lot of time and love.
Clyde is not a toy but a beautiful hand crafted collectable heirloom doll that can be passed down for many generations and is not recommended for very young children. Body, Painting, Hair, Filling, etc He has very life-like skin tones that were achieved by applying many translucent layers of Genesis heat set oils so that the skin has depth, texture and contour.
These paints are permanent and won't rub off over time. Clyde has subtle veining on his head and limbs and all of his cute little folds and creases have been lovingly blushed and shaded to perfection. It looks like veins and capillaries are really flowing under the skin. His lips have been carefully painted a natural color and then sealed with a permanent clear varnish to give it a moist wet look. Clyde has wispy rooted eyelashes to match his hair and his eyebrows have painted on one stroke at a time and look natural. He has micro rooted thin ash blond hair. This premium mohair hair is so soft and fine it feels like a real baby's hair. His hair has been finely rooted in a natural growth pattern to give it a realistic appearance. He also has painted hair along his hairline.
The hair has been sealed on the inside with a waterproof glue so you can now gently style it with a baby spray conditioner or detangler. This will help keep the hair soft and looking great. All of Clyde's cute little fingers and toe nails have been painted a soft baby pink, tipped in off-white and then sealed with a clear satin varnish for protection. Clyde has a doe suede body.
He has soft vinyl 3/4 arms and full legs. He has been weighted with ultra-fine glass beads, and soft RebornFX Baby Fluff poly fill. He is cuddly and is so fun to hold. Wafer baby powder scent are inserted into his body to give him a sweet baby-fresh scent. His little head can be gently turned from side to side and has also been weighted with bags of glass beads and poly fiberfill.
I have given this baby a magnetic pacifier. These magnets are very strong and care should be taken around certain electronics and people with pacemakers. It is such a joy for me to reborn each new little one into a one of a kind reborn baby.
I take great pride in my work and strive to create the most realistic reborn that I can. I hope that you will enjoy my babies as much as I do. You can be assured that only the highest quality materials are ever used in their creation. My baby nursery is smoke free.
Visit my Pouponniere les bebes dAnge Facebook page! Realborn® Clyde yeux ouverts par Bountiful Baby " Clyde " # B4-5173 Poupée de vinyle, corps de tissus Bras 3/4 et jambes complètes Poids Approx. 4 lbs 14 oz Taille 18 pouces Circonférence de la tête 13 pouces Date de naissance 05 février 2019 Il vient à la maison avec un superbe box opening Caractéristiques Peintures Genesis cuite au four Cheveux micro implantés Corps de tissus doux de couleur peau Bras 3/4, Jambes complètes Sourcils peints à la main Cils discrets agencés et micro implantés Tonalités de peau dapparence réelle Suce magnétique Note Cette douce petite poupée a été affectueusement rebornée en ce petit bébé étonnamment vivant.
Ce bébé n'est pas un jouet, mais une belle poupée de collection, faite à la main et n'est pas recommandée pour les enfants. Le corps, la peinture, les cheveux, le remplissage et autres Clyde a un teint clair et rosé très réel qui a été réalisé en appliquant plusieurs couches translucides de peinture à lhuile Genesis avec cuisson au four entre chaque couche, afin que la peau ait de la profondeur, de la texture et des ombrages.
Cette peinture est permanente et ne déteindra pas au fil du temps. Il a un veinage subtil sur la tête et les membres et tous ses petits plis mignons ont été affectueusement rougis et ombragés à la perfection pour un aspect naturel. Grace à la superposition des couches, les veines et autres capillaires semblent être sous la peau. Sa bouche a été peinte dune couleur naturelle et scellée avec un vernis clair permanent pour lui donner un aspect humide.
Ses petits doigts mignons et ses ongles de pied ont été manucurés dun doux rose, les bouts dongles sont blanc cassé et le tout a été scellé avec un vernis satin clair pour la protection. Clyde a des cheveux fins blonds cendrés micro implantés. Ce poil dAlpaga est si doux et fin quil ressemble aux cheveux d'un bébé réel. Ses cheveux ont été finement enracinés suivant un patron de pousse de cheveux naturel pour lui donner une apparence réaliste et ont été scellés de l'intérieur avec une colle imperméable.
Vous pouvez donc les coiffer doucement à laide dune petite brosse et dun conditionneur en vaporisateur ou un démêlant. Ceci aidera à garder ses cheveux doux et de belle apparence. Clyde a des cils fins micro implantés, agencés à ses cheveux et ses sourcils sont peints à la main. Il a un corps de tissu doux fait juste pour lui. Il est dun vinyle doux et ses bras sont de longueur ¾ et ses jambes sont de longueur complète. Clyde a été lesté avec des fines perles de verre et de la douce fibre synthétique RebornFX Baby Fluff. Sa petite tête peut être doucement tournée d'un côté à l'autre et a aussi été lestée avec un sac de perles de verre et de la fibre synthétique, soigneusement positionné pour donner plus de poids vers l'arrière, comme un nouveau-né. Clyde est très souple et malléable, il est agréable à tenir dans les bras tout comme un petit bébé. Des sachets à odeur de poudre de bébé sont insérés dans son corps pour lui donner une douce odeur de bébé. J'ai doté ce bébé dune suce.
Les aimants utilisés sont très forts et des précautions devraient être prisent pour les porteurs de stimulateurs cardiaques. Layette La commande inclut : on photos Votre bébé reborn complété Un cache-couche Un pyjama 1, 2 ou 3 pièces de vêtements de mon choix (tel que vu sur les photos) Une paire de bas Une couverture de Bébé Une suce magnétique Deux couches jetables Un cadeau Clyde porte la taille Nouveau-né Tous les autres articles montrés dans les images sont des accessoires photo et ne sont pas inclus dans cette vente/enchère. EXEMPLE : Peluche, couverture, etc Ma Nurserie Bienvenue dans ma nurserie de bébés reborn. C'est une joie pour moi de rendre réaliste chaque nouveau petit venu en un bébé naissant unique.
Je prends grand soin de mappliquer dans mon travail et m'efforce de créer les bébés les plus réalistes quil mest possible. Tous mes bébés sont créés avec beaucoup de temps et damour. J'espère que vous aimerez mes bébés autant que je les aime.
Ma nurserie est sans fumée. N'hésitez pas à m'envoyer par courriel vos questions. Visitez ma page Facebook Pouponnière les bébés dAnge. You will receive your parcel within Canada/U. Within 7-14 days OR SOONER. TOUS LES PAIEMENTS SUR VOTRE BÉBÉ SONT NON-REMBOURSABLES. Canada/États-Unis vous recevrez votre colis dans 7-14 jours ouvrables OU PLUS TÔT. AUCUN REMBOURSEMENT OU RETOURS SUR CE BÉBÉ. Ces frais sont la responsabilité de l'acheteur. Sil vous plait vérifiez avec le bureau de douane de votre pays pour déterminer à lavance quels peuvent être ces coûts supplémentaires avant dacheter ou denchérir. Je ne peux pas être tenue responsable d'articles retenus à la douane. S'il vous plait, si vous êtes satisfait de mon travail, n'hésitez pas à me laisser une évaluation positive. The item "Realborn Clyde Awake by Bountiful Baby Boy Reborn Doll Poupee" is in sale since Friday, February 8, 2019. This item is in the category "Dolls & Bears\Dolls\Reborn\Reborn Dolls". The seller is "pouponniere*les*bebes*d*ange" and is located in Saint-Paul, Quebec.
This item can be shipped worldwide.
Brand/Artist: Bountiful Baby
Doll Gender: Boy Doll
Features: Handmade
Material: Vinyl
Doll Size: 18 in
Type: Baby