Bluebonnet Babies REBORN Sleeping Newborn Baby Doll RealBorn Quinn Asleep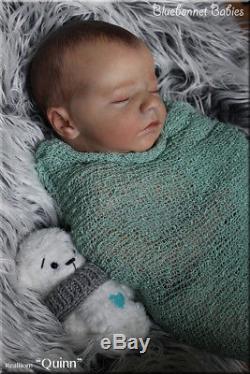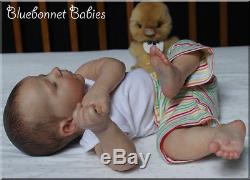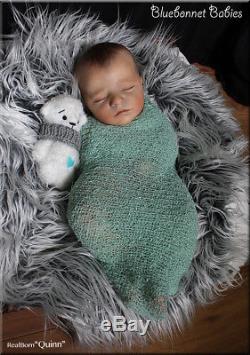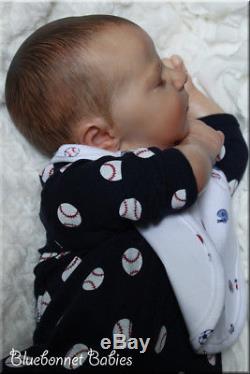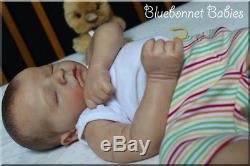 Thank you for your understanding! Original Sculpt Name : RealBorn ®'' Quinn Asleep'' 3D-Printed Sculpt from a real baby by Bountiful Baby. Weight: Approx +/-: 6 lbs (2.72 Kg). Note: All Measures are Approximate. I hope you enjoy the following photos of this sweet sleeping newborn that I've reborn in my nursery!
I took all the photos you see in a variety of natural lighting conditions to show how the baby's complexion changes in different light intensities of the day (just like real babies). I don't normally use a camera flash, so the natural light changes the intensity of his skintone colors as the sun goes in and out of the clouds. This is why some pictures look''brighter or more brilliant'' than others. Sometimes refreshing your page will help with the completion of the download of the pictures.
This newborn baby boy started out as Bountiful Baby's realistic new, state-of-the-art 3D printed''Quinn Asleep'' RealBorn ® kit made from the a scan of a REAL LIFE baby! Denise Pratt's own grandson, Quinn, was used as the real life model for this sculpt and WOW is this baby ever realistic in form! RealBorn kits have become very popular due to their very realistic way of sculpting from a real life baby as the results and pictures of Quinn speak for themselves! His 3D sculpted detail is so realistic, it is such a pleasure to dress him up and pose him for pictures! He will make an excellent addition to any reborn collection!
He is about 20 inches in length from head to toes and will fit in most outfits or newborn or 0-3 months depending on brand. COA (Certificate of Authenticity) will come with him to authenticate his limited edition status signed by the sculptor, Denise Pratt, and will add to his future value. Dylan is considered''newborn'' size at approximately 20 inches in length, and has FULL vinyl arms and FULL vinyl legs attached to a disc jointed body made just for this sculpt so it's very proportionate and has a cinched bottom.
A disc jointed body means he's extra floppy at the shoulders and hip area. If you'd rather have a stiffer jointed, NON-disc jointed body put on him that can be arranged. The Genesis heat-set painting is not overdone so as to remain lifelike as possible for a healthy baby glow and newborn slightly mottled, dewy complexion. The vinyl is smooth to the touch and is not rough as I don't use a harsh varnish, but I do use a thin layer of Genesis thinning gel to cut down on shine and seal it. This is much less rough to the touch and doesn't mute his coloring/blushing when cured..
The best of both worlds, in my opinion! Each layer of Genesis paint is applied in such a way to give the skintone depth and realism. There is faint bluish undertones throughout in all the appropriate places.
This is to mimic areas of thinner skin and veins, and they lie just below the skin surface so they look blended... Not simply''drawn on'' and do not overpower the baby's complexion. The baby's head of hair is maintenance free! It was painted with gentle strokes and many layers of Genesis heatset paints to give it extra depth of color and realistic appearance of''barely there''''close to the head'' hair style you see on many newborns.
Unlike babies with rooted mohair there is no worries of tangles and brushing to look neat and natural. He will always look well groomed no matter how many times he's handled or cradled in your arms. Since Dylan's eyes are closed, I micro-rooted lashes one tiny hair at a time for an even look. He was given capillaries painted on his eye lids for an even more realistic look.
The eyebrows are painted wispy and fine and do not overpower the baby's face. The nostrils shaded to give depth and realism The Dylan's lips were painted colors of pinkish- mauve and glossed to protect the paint and give it a moist look. He does have a magnet in his mouth to accommodate his pacifier. This can be removed upon request. Each of the baby's tiny nail beds have been given realistic touches and glossing so they look like they've just been clipped.
The limbs have been weighted with ultrafine glass beads and premium polyfil. I put some high quality glass bead and polyfil in his cloth body area with more concentrated weight in his bottom to balance the weight.
His head is weighted so it is floppy just like a newborn and it will need support when held. There is no sand used so this baby is able to travel anywhere overseas from the USA. BRANDS include: Gymboree baseball themed footed sleeper with matching bib. Carter's white tank onesie and Gymboree striped pants. Also included is his green stretch wrap which is perfect for all those adorable newborn curled up poses!
He is a joy to shop for and dress up as he's a true newborn size baby! I can remove these magnets if necessary as they can harm those with pace-makers. All other blankets, baby toys, stuffed animals and seating props, etc you see in the photos are only photo props and will not be included. This darling baby will be an excellent addition to any reborn collection and is LIMTED EDITION so this will be my only version of this sculpt from my nursery! Baby Dylan will arrive in timely manner if paid for promptly as laid out below in the''terms and conditions'' and would be a unique gift! Does this newborn in blissful slumber remind you of a someone you've seen or had in your life?
If so, don't this little cutie get away as there will. Be another from my nursery. I have had to reduce or turn down custom orders due to increased demand on other endeavors.
He is not made for small children as this is an adult collector quality reborn, older children would be fine, however. Each reborn is unique expression of the artist and cannot be repeated as an exact copy in regards to other's reborning work or even my own.... They are that unique in that each one is different in it's own way. I back my work 100% and use only the finest materials to make this baby.
I have described this baby to the best of my ability and have provided many detailed and close up pictures for you to get a portrayal of him as accurate as possible over the internet. All babies come from a 100% smoke free environment. See PREVIOUSLY adopted babies from my nursery BELOW to get an idea of my past work! Assembled using the FreeForm Builder. The item "Bluebonnet Babies REBORN Sleeping Newborn Baby Doll RealBorn Quinn Asleep" is in sale since Sunday, July 22, 2018. This item is in the category "Dolls & Bears\Dolls\Reborn\Reborn Dolls". The seller is "angeez*auctions" and is located in Alabama. This item can be shipped worldwide.
Brand//Artist: Reborn by Bluebonnet Babies
Brand: RealBorn® "Quinn Asleep"
Doll Size: Approx 20 inches
Type: Baby
Features: Handmade
Brand/Artist: 3D Printed Sculpt
Doll Gender: Boy Doll